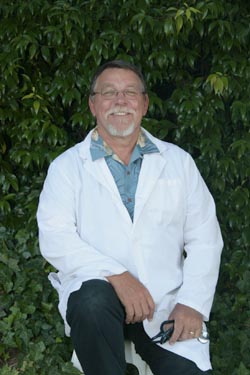 Owner, retired Veterinarian
Adjunct Professor
College of Veterinary Medicine
Washington State University
College
Washington State University, B.S. Biology 1974
M.S. Reproductive Physiology, Summa Cum Laude 1976
Veterinary School
Washington State University, Cum Laude 1980
Internships
Santa Cruz Veterinary Hospital, 1980-1981
Member
California Veterinary Medical Association
American Animal Hospital Association, Council of 100 Leadership Committee
Past President
Santa Clara Valley Veterinary Medical Association
Lecturer
Washington State University – College of Veterinary Medicine
Distinguished Alumni Award
Washington State University- College of Veterinary Medicine 1999
Keynote Speaker, White Coat Ceremony, College of Veterinary Medicine, Washington State University 2006
Washington State University-Outstanding Service Award
Local Awards
Best of Los Gatos Veterinarian 1997-2002
Town of Los Gatos Commendation 2003
Personal Information
Kyle has been with LGD&C since 1980. He is married with 3 sons. His wife, Kathy retired after a long and distinguished career in Elementary Education.
Kyle has a special interest in the area of orthopedic surgery. He is also interested in staff and leadership development within the hospital.
Kyle speaks to students at Veterinary schools and symposiums around the country. An avid reader, he also spends his spare time gardening and enjoying family and friends.
Kyle volunteered with the Esther Honey Foundation, a non-profit organization dedicated to helping the animals of the Cook Islands. His team provided care to hundreds of animals during their stay.
He was named the California Humane Society's "Humanitarian of the Year" in 2000 for his role in providing LGD&C's care of Phoenix, a dog who was severely injured in a widely publicized abuse case. He is a Lecturer in the College of Veterinary Medicine at Washington State University, and delivered the Keynote Address at the White Coat Ceremony for incoming Freshman at the College in 2006.
He has a cat named Cat Benetar, & a dog called Zoey. Kyle spends much of his free time in his Hawks Hill Vineyard growing and producing Santa Cruz Mountains Pinot Noir-which was served at the royal wedding!