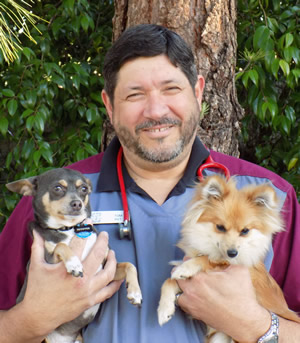 Education
San Jose State University, Wildlife Biology
Washington State University, Wildlife Biology
Certification
National Wildlife Rehabilitation Association, 1989
Member
National Wildlife Rehabilitation Association www.nwrawildlife.org
Wildlife Center of Silicon Valley-lifetime membership www.wcsv.org
RVT Committee with Cal Vet Medical Association 2015-2017
Experience
Tom got his "foot in the door" of the veterinary field by volunteering for Wildlife Rehabilitation Center in 1979. He then worked for two years at the Humane Society in the spay and neuter clinic. He worked at United Emergency Animal Clinic between 1982-1994, and Central Animal Hospital from 1992-1994. Tom began his career here at LGD&C in 1996, and he feels more at home here than anywhere he has ever worked. He spent three emotionally trying years working for Fawn Rescue and Rehabilitation in Santa Clara County.
Personal Information
Tom was born and raised in San Jose. He bought his first home this year in Felton. He loves to travel (Hawaii, New York and the Cook Islands are among his favorite places). He also loves scuba diving and hopes someday to live in a tropical place. Tom will forever be in pursuit of the perfect backhand in tennis. His favorite movie is Casablanca.
Tom married the love of his life, Gena, in April 2007. He has two stepdaughters, Missy and Adena, and a beautiful granddaughter, Shaylynn. They have two spunky little dogs, a Chihuahua named Skooter and a pint sized Pomeranian named Nahlah. As well as three cats: Jazz, Junior, and Angel