Los Gatos Dog & Cat Hospital is a full-service veterinary medical facility, located in Los Gatos, CA. The professional and courteous staff at Los Gatos Dog & Cat Hospital seek to provide the best possible medical, surgical and dental care for our valued patients. We strive to offer excellence in veterinary care and are committed to promoting responsible pet ownership, preventative health care, and to providing educational opportunities for our clients. We are proud to be an accredited member of the American Animal Hospital Association, an honor achieved by only 15% of small animal practices in the US. AAHA-accreditation ensures that the veterinary hospital you have selected has the facilities, equipment, staff and medical protocols AAHA believes important for the delivery of high-quality care. We are committed to being continually evaluated against the most rigorous standards in veterinary medicine.
History
Los Gatos Dog & Cat Hospital was founded in 1947 by Dr. Martin Fremont. Located only a quarter mile away from its current location, the single-veterinarian hospital was at the northern edge of a small town, with very few neighbors. The passage of more than 60 years has meant growth for both the town–which now spills all over formerly open space–and the clinic, which now has nine doctors and a varied and competent support staff.
Dr. Fremont is still remembered fondly by many of the clinic's long term clients. Dr. Kyle Frandle, who took over the practice in 1980, enjoys recounting many stories about his predecessor and mentor. The hospital moved to its current location in the fall of 1989, and was warmly "welcomed" by the Loma Prieta earthquake shortly thereafter. Patients, building and staff emerged unharmed. Los Gatos Dog & Cat Hospital has proceeded to provide the highest quality veterinary care and advice for the local community.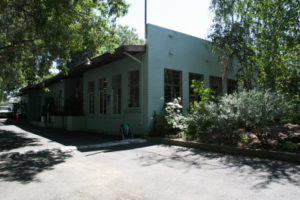 At Los Gatos Dog & Cat Hospital we cherish the human-animal bond. We also place great value on the bond we have with those whom we interact with at work and in the community. Our goal is to provide our patients with the highest quality medical care available. We strive to provide the best possible service to our clients. Our team will work hard to treat you and your pet in an open, caring and compassionate manner.